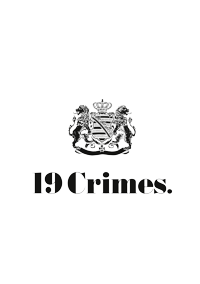 Business Challenges and Campaign Objectives
Australian wines in the U.S. have faced a slow decline, fueled by an oversaturated marketplace, outdated portfolios, and a critical lack of brand equity. Faced with these obstacles, niche Australian wine brand 19 Crimes needed to drive trials and convert adventurous millennial shoppers from craft beer and whiskey to wine.
19 Crimes had five primary objectives:
Create trade excitement and retailer participation from Kroger at a national level.

Increase trial-to-purchase rate during key sampling periods, with an industry benchmark of 20 percent.

Reach depletion at the $8.00–$14.99 price point.

Increase downloads and engagement with the 19 Crimes app.

Earn media/buzz via PR and social media, with a benchmark of one million earned impressions.
Insights and Strategy

The brand targeted a male, millennial audience who was more interested in the narrative behind the wine than the tasting notes or provenance of origin. As early adopters of new technology who see their smartphones as their lifeline, 19 Crimes' audience looks for brands that help them appear in the know and add value to their social circle. Similar to the brand's shopper target, national retailer Kroger sought to be at the forefront of innovation with digital technology that could add value to its shoppers' experience.
Concept/Big Idea
Using the latest immersive technology — augmented reality (AR) and virtual reality (VR) — 19 Crimes created the "Infamous Tasting" experience for Kroger stores. By combining packaging interaction and smartphone technology, the brand captured the attention of novice millennial wine drinkers, sharing the story behind 19 Crimes in a way that disrupted the norms of the wine category.
Key Tactics
The 19 Crimes augmented reality app, the first of its kind in the wine category, allowed shoppers to scan the mugshots of the characters on each bottle. Real-life convicts on each SKU revealed a unique story, encouraging collectability and repeat purchase. A national point-of-sale campaign engaged shoppers to experience 19 Crimes beyond the wine and emboldened them to share it with their "gang."
Additionally, the brand took a subversive approach to wine sampling using virtual reality to give Kroger shoppers an exclusive in-store experience. Leaving the tasting notes behind, the brand armed its sampling teams with interactive 360-degree headsets that virtually dropped shoppers into the cell of a prison ship on its way to the penal colonies of Australia. With wine in hand, shoppers were intrigued to learn more about the 19 Crimes backstory, driving conversion outside of the aisle.
Results
The Infamous Tastings initiative was customized exclusively for Kroger retail stores, using AR and VR as promotional tools to increase the sales of 19 Crimes wine. The approach successfully cut through the clutter among distributors and shoppers, with 98 percent increase in depletions in retail, tasting conversions three times higher than industry standards, and an impact well beyond the aisle via social media and mass media coverage.
The brand shattered its target objectives:
1,475 sampling events at Kroger stores across the country

Engaged 45,000 shoppers with a 58 percent conversion rate, leading to more than 2,000 cases sold during the sampling period

Depletion rate increase of 98 percent, compared to an industry benchmark 3 percent increase

More than one million downloads, with an average app session duration of 3:39

128 million total earned media impressions via PR coverage from mass media outlets (broadcast and digital) and social media, with 18 million impression from Facebook alone
Source
"19 Crimes Infamous Tasting." 2018 REGGIE Awards Gold, Creativity & Innovation Campaigns; Gold, Shopper Marketing Campaigns; Silver, Content Marketing Campaigns; Bronze, Retailer-Specific Campaigns; Bronze, Social Media Campaigns. Brand: 19 Crimes. Lead Agency: JW Thompson — Geometry Global.