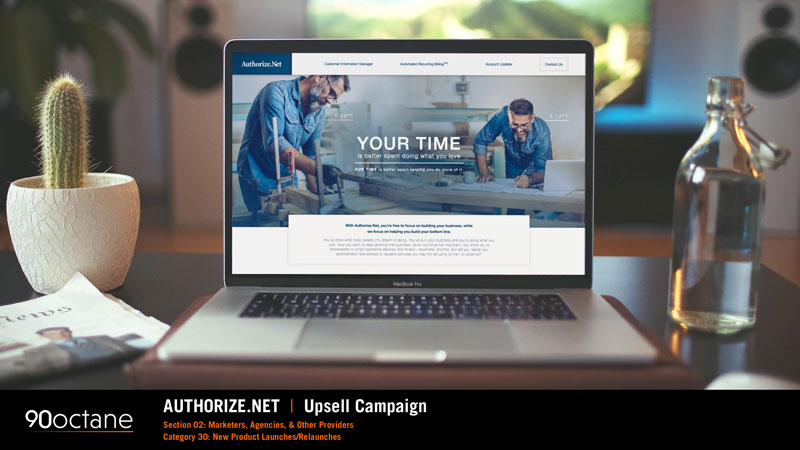 Business Challenges and Campaign Objectives
Authorize.Net has been the leading payment platform provider since 1996, but many of its customers were underutilizing the services available to them. Additionally, competitors were promoting a new, high-demand product through splashy brand campaigns, and Authorize.Net wasn't positioned to keep pace. Authorize.Net had to act fast to stay in the lead.
To overcome these challenges, the brand set out to create a fresh dialogue with customers to upsell a new product and gain $500,000 in revenue in six months.
Insights and Strategy

Time is a precious resource for small business owners; Authorize.Net's products and services are designed to give small business owners more time to focus, grow their skills, and grow their business.

The campaign was designed to highlight how Account Updater could help small businesses run more efficiently. The brand also encouraged current customers to activate products available to them but weren't using to their full potential.
Execution
The campaign concept was called "Time Well Spent." The campaign's purpose was to build awareness among all Authorize.Net customers about Account Updater. This aligned with Authorize.Net brand purpose: "To help merchants build their dreams by streamlining how they realize revenue."
To drive customer conversions and revenue, Authorize.Net created an integrated touchpoint strategy, a marketing automation program, and several email tracks strategically offering customers content in various stages of the sales funnel. The campaign's success relied heavily on well-researched and compelling assets that powered an interconnected digital ecosystem with targeted display banners, social ads, and emails. The brand focused on serving up progressively more relevant offers.
Results
The campaign resulted in two million card updates and 1,486 asset downloads. In just six months, Authorize.Net exceeded its goal and generated $500,000 in revenue.
The campaign also influenced the brand strategy and ongoing website redesign. The photography styles and campaign tone were adopted by internal marketing teams. The campaign is currently expanding to include potential new customers in addition to existing up-sell customers.
Source
"Authorize.Net Upsell Campaign." 2018 B2 Award Gold Winner, New Product Launches/Relaunches. Brand: Authorize.Net. Lead Agency: 90octane.