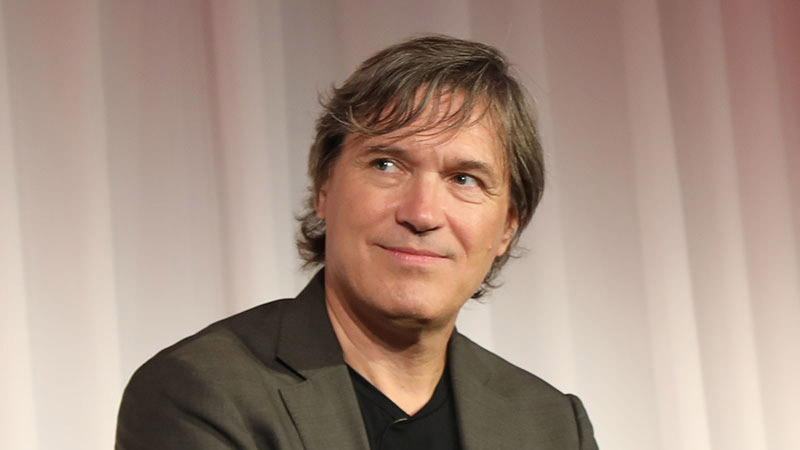 ANA
This past June Christoph Becker attended the Cannes Lions Festival in France, a star-studded event that celebrates the most creative, groundbreaking work in the marketing communications industry. He knows more than most about creativity. The founder, CEO, and chief creative officer at the business-to-business agency gyro, Becker was previously chairman and chief creative officer of FCB NYC and spent decades in high-level creative positions around the world for agencies like Bozell and Ogilvy & Mather.
At Cannes, Becker witnessed something that would have been unthinkable a few short years ago. "It was packed with great B2B creative," he recalls. Becker can take a measure of credit for the creativity that is flourishing in the business-to-business space today. Ever since launching gyro in 2009, he has advocated the idea that B2B marketing must be every bit as creative as the work emanating from the B2C world, and that the job of an agency is to help client companies express their essence and foundational purpose — what Becker calls "the soul of a business."
"We are talking about a reassessment of how marketing communications should be behaving," Becker says. "Any large corporation today will not live without having this complete and total solution approach, where you understand the business agenda all the way up to the higher purpose."
Becker, who was recently inducted into ANA's B2B Hall of Fame, explains what the honor means to him, the importance of collaboration, how the agency-client relationship has evolved over the years, and why creative pioneers should flock to the business-to-business marketing space today.
Q. When you founded gyro you were intent on creating a culture of collaboration. How do you maintain that culture after a decade?
A. Collaboration is not something that's nice to have — it's a must. From day one, I realized that if we didn't start putting up the pillars of a true collaborative approach, it would not be possible to offer a cohesive, simple, and seamless solution to our clients. Complexity requires simplicity, simplicity requires glue, and the glue is the culture. We declared a culture called UNO, which, of course, means number one. Everything around that became a language, a behavioral approach, an attitude. It also became a value and a belief.
Q. What has challenged that collaborative culture?
A. The big torture test for culture is growth. We started as a garage band and ended up in a stadium. The culture needs to sustain the pillars. Much of the reason we kept the culture is the people who came to work for us. We are lucky to have highly talented people who believe in creating a culture that drives the business. In addition, the culture in the agency has to reflect the culture of our clients. It's not a complete bubble we created; it's quite the opposite. This is an open system because if you are an entrepreneurial, freshly created global agency, there's no way you can offer everything from the get-go. You have to have a highly collaborative approach to bring great actors to the table. Of course, clients are also part of this as they are the people who have planted the flag of the culture and who really feel magnetized and enriched by it.
Q. How has the client-agency relationship evolved over the course of your career?
A. In these days of uncertainty, clients want to feel understood, assured, and accomplished, and they want to feel a confident optimism that eventually gets them to their goal. I think that has shifted a bit because in the past the relationship was a bit more rational, where now it is more an age of feeling than reason. The relationship-building techniques are never going to change but the expectation of clients has changed. You need a partner who tells you, "This is the way to go and we are going to be in this together." I think what really has changed is the belief that you can conclude the project. Now we are building constantly because the change factor of the industry with data and digital impact is also constant. You can't go out and say, "I have the solution packed on the shelf." You have to say, "I have the path to get there, but we can only get there together."
Q. Part of that collaboration involves creating emotionally resonant campaigns, which wasn't always the case in business-to-business advertising.
A. From the beginning we have been analyzing the emotions that trigger business decisions. That has been a cornerstone of our proposition, and is the reason why we have been in a position to create humanly relevant ideas in business. At the beginning it was not easy, but now we realize how important it is to keep those emotions top of mind. We know that 60 percent of a major business decision is based on a gut feeling. It's a huge number and leads you to a different kind of advertising that actually makes people have a full experience, versus a more rational approach.
Q. How do you ensure that concept doesn't get lost?
A. One way to keep the focus is to win the pitches. Another way is to produce better work. A third would be to contribute to making B2B sexy. B2B is very important in that it has evolved to where the internal essence of a business, its soul, is equally as important as any other point of difference. Therefore, the people I need to hire are mostly thought leaders and strategists who can connect the dots between the business agenda and a higher purpose. That is a new path. Specifically in B2B we are the only ones able to connect the business agenda, challenges, and essence to a higher purpose. That is the journey. In the B2C world, you go from the product up.
Q. Can you give an example of a client that did a particularly good job evoking a powerful feeling from its advertising?
A. USG is a perfect example. As the number one drywall producer in the world, the company has taken an emotional and highly creative approach to its business. It speaks tons about the bravery of the client. We can talk forever about having this approach or not, but the growth numbers of that client tell you everything. It doesn't help to talk about only intellectual approaches if the result is not there. Without the growth, all of this would make no sense.
Q. What has launching gyro and being an entrepreneur taught you?
A. The word "business" is equally sexy as the word "music" to the younger generation. There's no trust in any institution but business right now. In a way, entrepreneurship is seen as a freedom builder and it's how people really think they can make a mark. I never had the chance to build a business from scratch. I opened a lot of agencies in Latin America and elsewhere but not from scratch. That really propelled a different energy or inspiration in my mind. That was my ignition moment. One thing I do is call everyone who joins us around the world, from a receptionist to a president, and spend 15 minutes on the phone with them. I always end with this question: What is your dream? Seventy percent tell me it's to have their own business. The fact that they have the conviction to build a business in the future tells me that their hunger to have their own story is bigger than anything else that the consumption or consumer society has built.
Q. You were born in Germany, raised in Spain, and have lived in the U.S., Mexico, and elsewhere. How much has your global perspective shaped your approach to marketing?
A. If I really react viscerally to the question, I think it's humility. Living in many cultures gives you the perspective that we are not alone and that you have to respect a lot. There's great wealth in each person and culture, which causes me to listen more than I probably did when I was living in just one country. I think a change of culture gives you the chance to change your perception and principles sometimes. The U.S., my home for the past 16 years, is the perfect place to elevate everything that I've learned along the way. It sounds completely cheesy but global citizenship is the future, at least in the digital world. If we say we live in a digital era, we are basically saying we are living in a global citizenship era, because there is nothing that is provincial or village-driven or concluded by borders. It's a borderless approach, and if you don't have a global perspective, I think you won't be successful in this business.
Q. What would your advice be to someone entering a career in business-to-business marketing today?
A. This is a business that if you are not the best in what you are doing, you will get expelled fast. I always concentrate on the uniqueness you bring to the table. It doesn't matter if it's B2B or B2C. In B2B, I think you need to be passionate about building businesses. It's the most fascinating place right now in marketing because it combines the reality of these times with high and creative thinking. It's difficult to express, but any company that you respect these days as pioneering and avant-garde has this mix. Who is making the headlines? Companies that mix that very unique approach. And this is a place that requires pioneers. If you would rather be a pioneer and a builder, then this is the place to come.
Q. What does your induction into the ANA B2B Hall of Fame mean to you?
A. It's an enormous honor because at the end of the day, all of us — clients, other agencies, the ANA — have walked the path of bravery to refresh, reinvent, and reposition what B2B means in the scheme of our marketing communications. We all decided 10 years ago to say this is the future of marketing. Our clients embraced it, not from day one, because every time you say something that is beyond the times it takes a while. This is recognition of bravery and stubbornness.