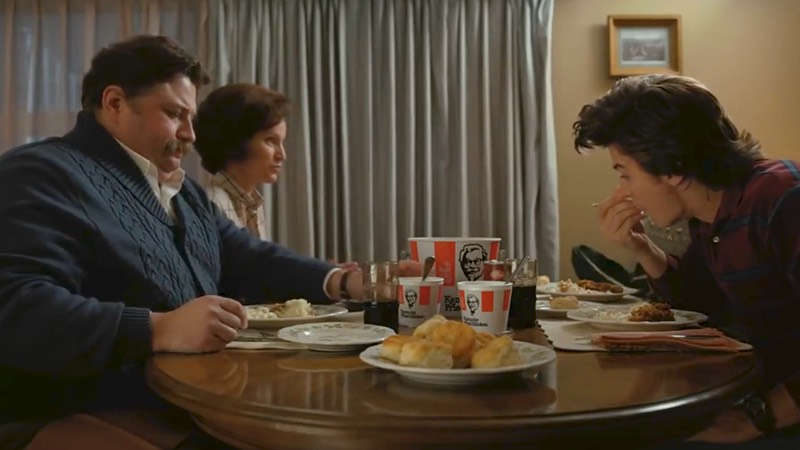 KFC was featured in a scene in the second season of Netflix's Stranger Things. Netflix
When The Hershey Company brand Reese's Pieces was featured in the 1982 hit film E.T., sending sales soaring, the use of product placement in movies and TV shifted into high gear. Who could forget the association of Aston Martin with James Bond, or Nike with Forrest Gump?
These days, however, product placement — or, as it is often referred to, brand integration — is enjoying a renewed rise. A recent annual report released by media industry economist PQ Media, for example, found that the U.S. product placement market will top $10 billion in 2018, the ninth consecutive year of double-digit growth.
This is particularly reflected in TV shows where products have even become part of the storyline. Examples over the past few years abound: There's the scene in the second season of Netflix's Stranger Things, where two young characters lighten the tension at dinner by eating KFC and calling it "finger-licking good." There's the character on USA's Royal Pains, who used the real estate-site Zillow to look up available homes. And there's the episode of ABC's Black-ish in which the characters discuss a short film Procter & Gamble released last year to spotlight the discussions black parents have with their children to prepare them for racial bias.
Experts say the spike in placement has been due to massive industry and consumer shifts, including the dawn of over-the-top (OTT) media services like Netflix and Hulu, as well as devices like smart TVs, Roku, and TiVo.
"The way viewers are consuming content is evolving," says Stephanie Dade, SVP of global content and integration at Branded Entertainment Network (BEN), which is owned by Bill Gates and has done thousands of placements for clients including Dunkin' Donuts and GM in Netflix's House of Cards. "Our proprietary research shows that today's audiences simply prefer integrations over interruption."
While product placements have often been unpaid barters, brands and their agencies are increasingly negotiating higher-value deals to offset the erosion of conventional advertising. At this year's upfronts, ABC proudly highlighted product placements in its shows, such as the Toyota Camry shots in Modern Family.
"As audiences switch to ad-free environments such as Netflix and Amazon, and shows can no longer rely on reruns and home video, the only way for brands to be there is to be within the content," Dade says.
The pressure is also on the networks and production companies to change in this new era, says Susan Webber Gatto, a content sponsorship consultant and former VP of branded content at A&E. "Networks are responsible for 24 hours a day of programming, while program budgets have not increased exponentially," she says. "The risk is greater and the reward is lower, so there is a pile of programming that's potentially very good but having trouble getting financed. That's where this new model of brand integration is coming in."
This has presented an enormous opportunity for brands, says Peter Naylor, SVP and head of advertising sales at Hulu. "We're seeing continuous demand for brand integrations, and we're embracing it, from Lyft's custom-partnership and integration in Marvel's Runaways to McDonald's finding the perfect home on The Mindy Project," he adds.
The Power of Brand Storytelling
Putting brands and products into the fabric of a show makes the brand relevant in an environment that the consumer is passionately engaged in, says Tom Meyer, president of TMA Entertainment at The Marketing Arm, which helps brands such as State Farm connect with integration opportunities. "What we're doing is a form of advertising but with a little bit of art and science."
State Farm, for example, was woven into an episode of Black-ish in which a basketball team is christened the State Farm Good Neighbors.
"We look to integrate our products appropriately into content to help connect our brand around the experience or the passion point that the consumer is having with that content," says Ed Gold, advertising director at State Farm. "Some content producers and writers are more open to having the discussion than in previous years, but not all are open to it."
Storytellers prefer to use real brands in their content because it keeps audiences engaged, helps define their characters, and can help move the storytelling along, Dade says. "Audiences can learn more about a character by seeing the vehicle they drive, the clothes they're wearing, and the technology they're using," she notes. Opportunities typically start with the producer, she adds, but the right match must be found between brands and a storyline or character.
"You have to find those seamless moments," Dade says. "It's most exciting when we can change people's perception about a brand." For example, Reese Witherspoon drove a Buick SUV in HBO's Big Little Lies — a placement that challenged long-held assumptions of what a Buick looked like.
However, finding the right opportunities and implementing a successful integration is no easy task, says State Farm's Gold. "There is a ton of time and effort put in by our teams and our agencies to make an integration successful, so you do need to consider whether the cost, viewership, time, and effort are worth it," he cautions. "It takes almost the same amount of time and effort to integrate into a 3.0 rated show as it does for a 0.3 rated show."
There is also no structured marketplace or rate sheet for brand integrations, so the cost tends to be whatever the market will bear. "There is no regulation to this, no true methodology — so it's really about rationalizing costs and pricing," Gatto says.
According to Hulu's Naylor, amplifying integrations through digital ads and other content can help make product placements even more worthwhile and measurable. "Where there's unique value to advertisers on a platform like Hulu is in the opportunity to amplify the integration," he says. "For example, when coupled with a targeted 15- or 30-second commercial in a lighter-ad load experience on Hulu, a brand integration drives even better results for the brand — both opinion of the brand and purchase intent surge nearly 20 percent vs. no exposure."
The Future of Brand Integration
The intersection of content and commerce will certainly continue, say experts, who believe the future of brand integration and product placement is bright. "When it's done correctly and in service to the storytelling, more and more brands are going to actively participate in this," Dade says.
The beauty of the 30-second spot was that it simply got inserted into holes, after the TV show was produced — now, the brand exposure is embedded in a show as it's happening. "It's not skippable, it's in a moment of time in a show where people are watching intently and are engaged, which is great," Meyer says.
However, success in brand integration will only come to those who put in the time and effort, says State Farm's Gold. "Achieving what Reese's Pieces did in E.T., Pepsi did in Empire, and Eggo did in Stranger Things is not easy and takes great collaboration on all sides on the equation," he stresses.
TIPS
The Bottom Line on Brand Integration
Include integration as a key component of the marketing mix. There needs to be a shift from looking at brand integration as an afterthought or simple add-on, says Stephanie Dade of Branded Entertainment Network. "The brands on the forefront and having success have dedicated discipline to this effort," she adds.
Make sure the brand is in service to the story. Unlike a commercial spot, successful product placement demands that the brand understands it is in service to the story, not the other way around. "That's where we see the magical moments," Dade says. According to Hulu's Peter Naylor, platforms, brands, and studio partners must ensure the creative is married organically with the most meaningful story. "We have an entire team dedicated to helping brands zero in on meaningful in-show integrations and creating custom opportunities to amplify partnerships," Naylor says.
Look for the integrations that make sense. "When you start to talk about something like an insurance company, you don't get a lot of natural product placement like you do with a food product, unless there is a storyline about it," says The Marketing Arm's Tom Meyer. "So you have to go out and look for the right instances for the show and the narrative of the storyline where it makes sense. Nothing is worse than a brand appearing in a product placement where they don't belong."
Have an open mind. Because product placement is not structured with buy-off-the-shelf opportunities, it can make brand marketers nervous, Meyer says. "They aren't familiar with a third party creating content with their brand," he says. "The brand has to walk in the door with an open mind about how writers might treat their brand or product in context with that part of the show — and they need to be okay if the brand doesn't come off as they thought it would.
Be prepared for anything with social media. The social amplification of whatever that onscreen relationship is always provides a potentially huge bonus to the scenario marketing opportunity. "You always hope for that, but I don't know of any integration or placement that's ever been done where some trolls aren't criticizing it." Meyer says. "Brand marketers have to be ready for that because blowback is just going to happen. Hopefully the good outweighs the bad."
— S.G.